The Mission
Leg 09 - 20 to 26 July 2021
To sail on the Celtic Mist recording and identifying individuals from the genetically distinct Bottlenose Dolphins populating the Shannon Estuary and nearby locations.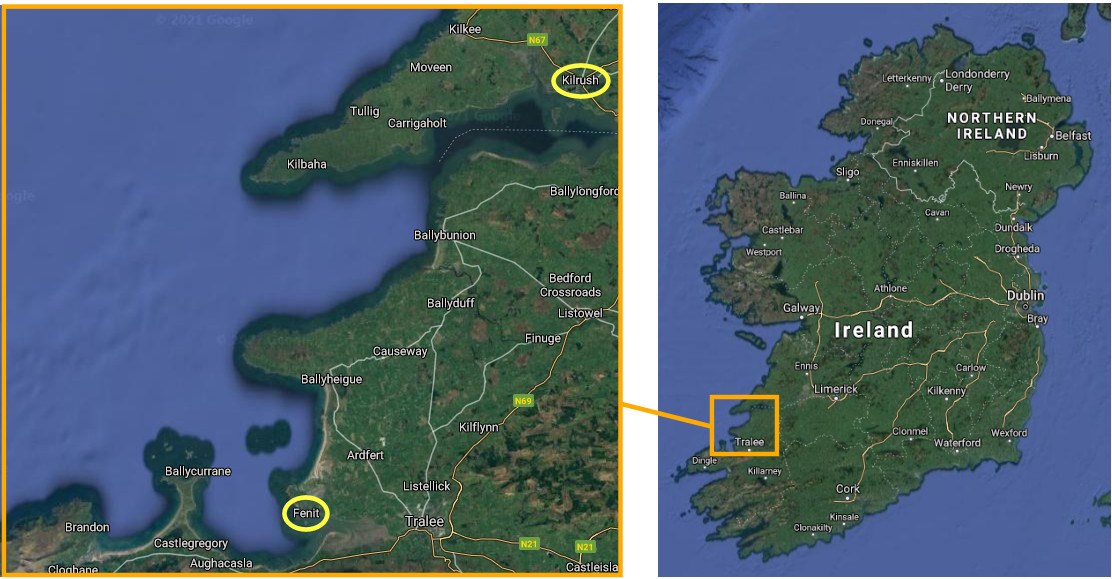 Map of survey area
The Crew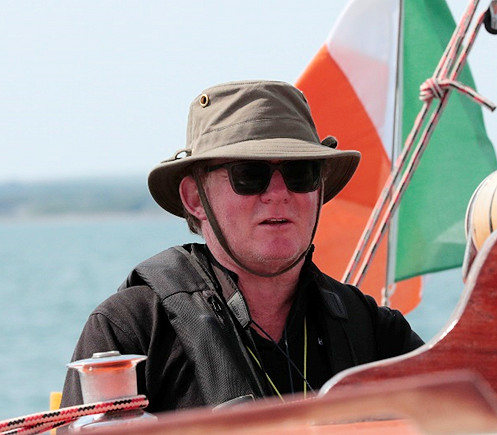 Pat Hartigan
Skipper Pat Hartigan began his experience nearly 30 years ago learning about the sea out on fishing boats, completed the yacht master exams in the nineties and owned his own boat. An experienced yacht master instructor and twelve years frontline service with the Coast Guard Pat first skippered the Celtic Mist in 2016. Built in 1974 this 57-foot Ketch, formerly owned by Charles Haughey, was gifted to the IWDG in 2011. He was pleased with the performance of the boat and delighted to get a little bit of sailing during the week despite very little wind. Describing us as an eclectic mix Pat was happy with the crew which worked as a great team.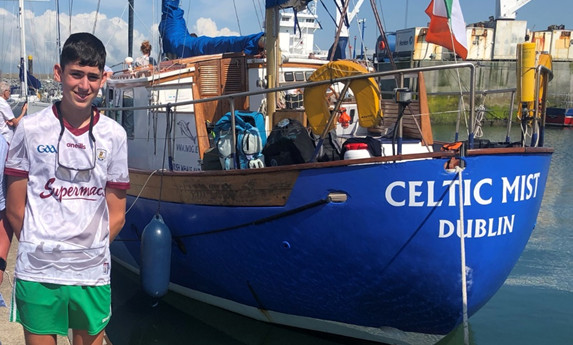 Daragh McLaughlin
Keen hurler Daragh McLaughlin the youngest member of the crew has always been interested in marine life and when he came across this voyage immediately joined as a member of the IWDG. He was surprised to see so much marine life and particularly enjoyed observing the large numbers of Common Dolphins and Minke Whales.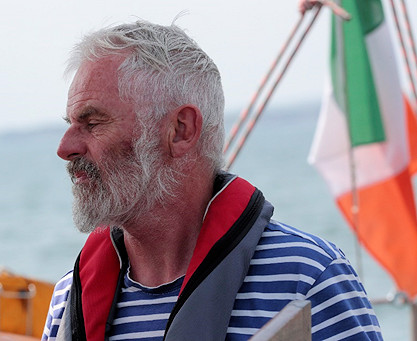 David Bagnall
Bringing his light-hearted humour there's not much that First Mate David Bagnall can't fix or improvise a solution to. David was a key player with the recent painting and refurbishment of the Celtic Mist and soon hopes to be reunited with his boat in Galicia. On this trip he particularly appreciated the great weather and the decisive mission of the Marine Biologists and where they wanted to survey.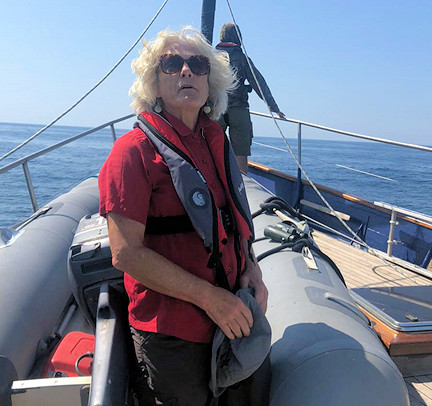 Patricia O'Brien
Retired nurse from Galway Patricia O'Brien just loves being out at sea and can't help but show her delight by talking to the marine life and thanking the Kerry mountains. A real team player Patricia enjoyed interacting with the nice crew, was very organised in the galley and kept us safe with her guidance on keeping surfaces clean. She also shared her archaeological knowledge on the monastic sites we visited.
The Scientists
Then we come to the three marine biologists - Seán, Bogna and Mags. They hit it off with each other in their student days and were excited to finally work on a project together.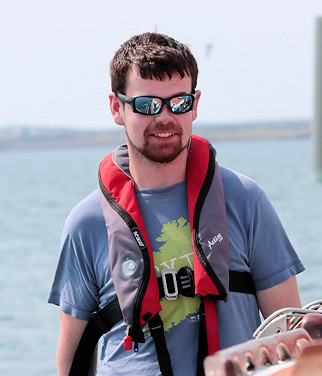 Sean O'Callaghan
Recently returned from Norway and Catalonia Seán O'Callaghan was delighted to be invited back in Ireland to bring his drone flying skills to this project. He was astonished at the sheer amount of activity we observed each day. Seán is off to the Azores in August for more cetacean adventures.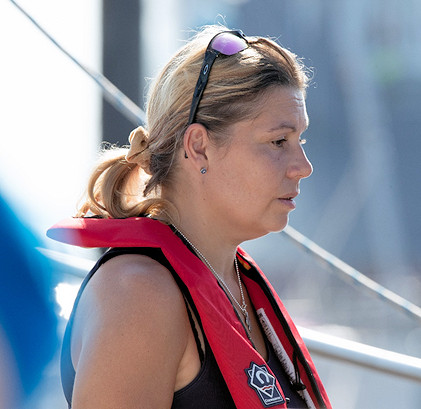 Bogna Griffin
Armed with an array of gadgets Bogna Griffin's aim is to gather bottlenose dolphin DNA with the potential to trace family groups and ancestry of the population.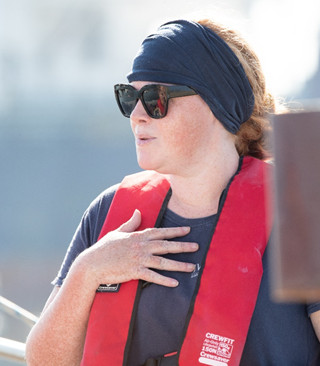 Mags Daly
Project leader Mags Daly is utterly devoted to the Shannon Dolphins and can identify many individuals within a split second of a sighting. This mission was a specific survey she had been wanting to carry out for a couple of years and was to include the wider range of Brandon, Smerwick and Loop Head. She is particularly driven to identify individuals to aid the tracking of mortality, gender, new calves, and the hotspots where they reside.
And finally, crew member number eight was me (Denis O'Regan).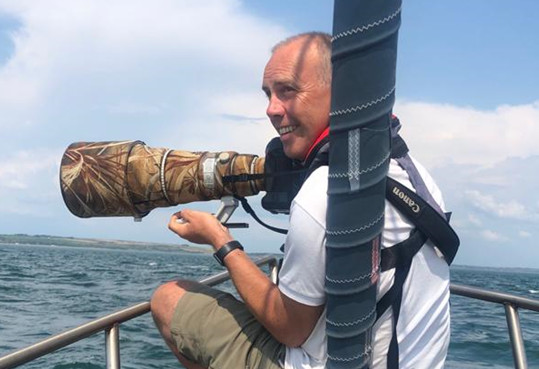 Denis O'Regan
As a keen photographer and birder I was just as excited to observe the diversity of pelagic birds including the stunning Black Guillemot, Puffin and newly born Guillemot youngsters as well as three Ocean Sunfish.
Mon 19 July – Fenit to Smerwick Bay
After fuelling and stocking up with provisions we left Fenit and headed Northwest. By 12:45pm we were already observing bottlenose dolphins. Later that afternoon we were treated to large numbers of Common Dolphins and at least 20 Minke Whales.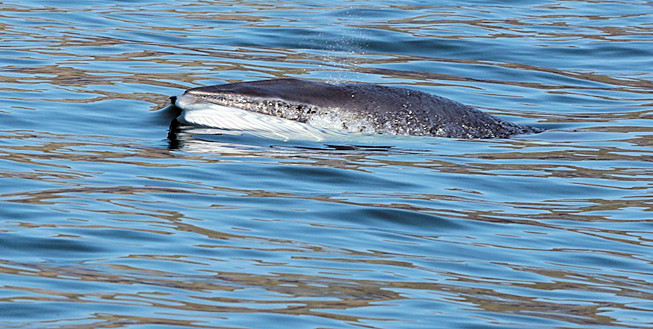 Minke Whale
Sean managed to capture some stunning drone footage of Minkes feeding and Dolphins tossing a Salmon. We anchored in Smerwick Bay and were greeted as Gaeilge by a couple in a traditional Currach as the sun slowly sank behind the Kerry mountains.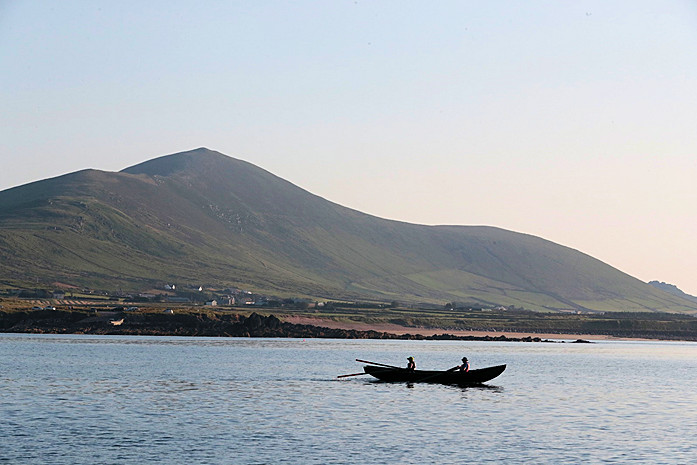 Couple in currach greet us in Irish
Tue 20 July – Smerwick Bay to Fenit
We awoke to find a thick fog had descended upon us. So, after waiting a while we finally set off late morning gingerly travelling eastwards watching out for lobster pots and any other vessels. It wasn't long before we found ourselves amongst the Common Dolphins and Minke Whales again.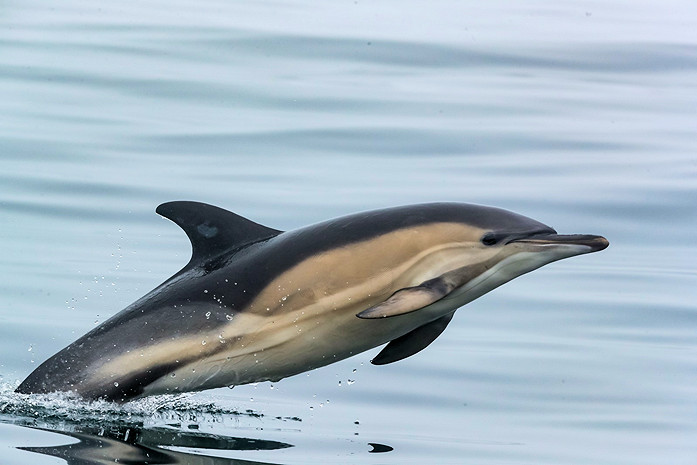 Short-beaked Common Dolphin
By 2pm this turned into non-stop bottlenose dolphin activity. Eventually we moored back at Fenit Pier for the evening.
Wed 21 July – Fenit, Illauntannig, Brandon Bay
This day we ventured out to the Magharee Islands after gaining permission from the owner to land on one them. By the time we arrived and took the inflatable to land on the shore of Illauntannig (the largest of the islands) the combination of intense sunshine and virgin sand would have convinced anyone we had landed in the Caribbean.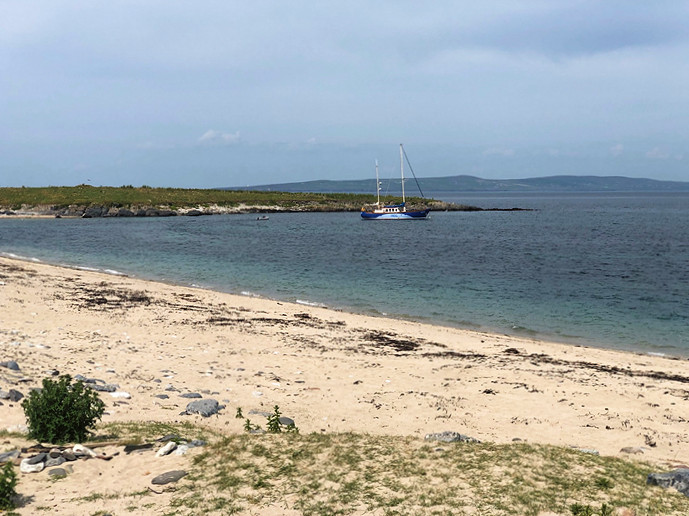 Illauntannig
Amidst the flock of sheep and grain of Sanderlings we happened upon the ruins of a sixth century monastery. Founded by St Senach, within the thick curving cashel wall we discovered the remains of three beehive huts, two rectangular oratories and three burial platforms. One of the huts even incorporated a well-preserved souterrain (a tunnel).
After returning safely back to the Celtic Mist we cast off by 4:30pm and within half an hour were back amongst the frenetic activity of the Minke Whales and Shannon Bottlenose Dolphins. It was poetry in motion watching how these large dolphins effortlessly soar their heavy bodies completely clear of the water in a mesmerising almost slow motion dance.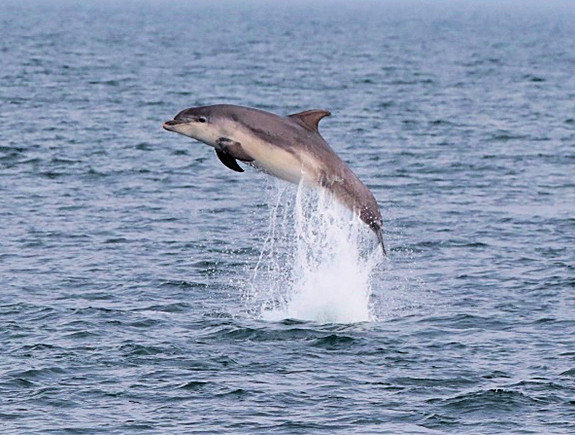 Bottlenose Dolphin effortlessy leaping
We ended the day anchoring in Brandon Cove for an overnight stay.
Thu 22 July – Brandon Bay, Loop Head, Brandon Bay
Woke up early to screeching Sandwich Terns fishing around us in the bay.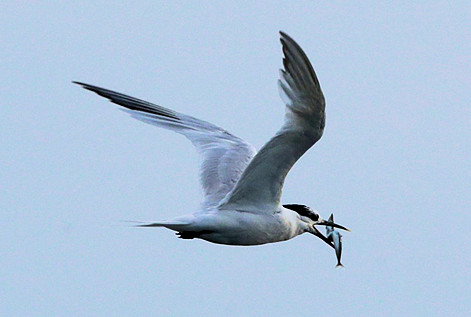 Sandwich Tern
We set off for Brandon Head and by 9:30am were amongst the Bottlenose Dolphins again. We were blessed with yet another morning of lively action. The dolphins were particularly fascinated with our various items of DNA gathering kit hanging over the side with investigative swimming on their side, shaking their heads accompanied with piercing whistles audible from the boat.
Bottlenose Dolphins visiting the Celtic Mist
By midday a moderate breeze encouraged us to cut engines and make steady progress under sail. I was given the privilege of the wheel and directed the Celtic Mist in silence towards Loop Head… just fabulous!
After even more Bottelnose Dolphins joined us around the dramatic cliffs we made our way back towards Brandon traversing through thousands of Moon and Compass Jellyfish and even passed the waving fin of the exotic Ocean Sunfish (Mola mola)
Ocean Sunfish (Mola mola)
The day ended with yet more Bottlenose activity back at Brandon Head before dinner in congenial company and another night sleeping on the Atlantic.
Fri 23 July – Brandon Bay to Kilrush
The morning was tinged with sadness as the question on our lips was Where did the week go?! The magnificent weather, frenetic cetacean action and amiable company meant it was all coming to an end far too soon.
As we left Brandon Mags was delighted to recognise Minnie, first spotted in 2019, a Bottlenose calf with kyphoscoliosis (a deformed spine) and a collapsed fin. As we made for Kilrush the sea state became quite choppy making the sighting of dolphins a challenge. Not a problem for our eagle-eyed team as we spotted more animals that seemed much more reticent to check us out. RTE issued an orange weather warning for thunder just as we came into the lock at Kilrush.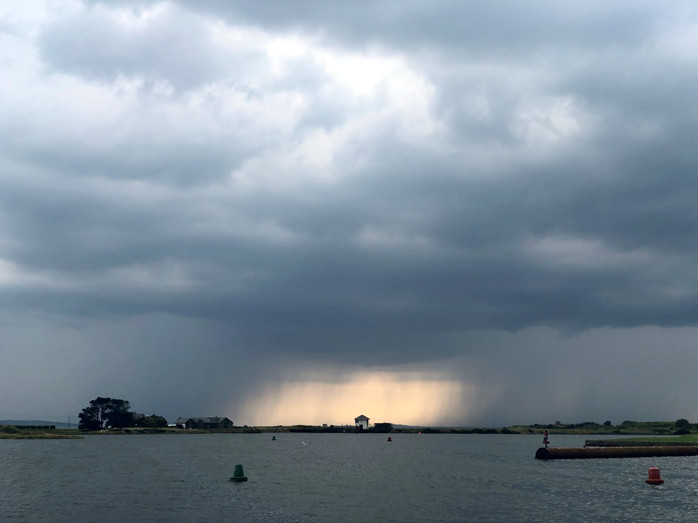 Thunder clouds at Kilrush
We moored up just in time as the atmosphere was alive with electricity and although we heard reports of violent flashes and power cuts the threat seemed to pass us out.
Sat 24 July – Clean Up
Today was all about cleaning and scrubbing the boat and our gelled team sprung into action like a well-oiled machine. This week was a great example of how complete strangers with a variety of skills and knowledge can flourish as a team creating a fertile environment for new ideas. Aristotle's wise words come to mind: "The whole is greater than the sum of its parts". Now we had an established routine I was ready for another week but alas my plans to hide as a stowaway were doomed as Mags was to drive me back to Fenit to collect my car. Something tells me this is not going to be the last time I stand on the deck of the Celtic Mist!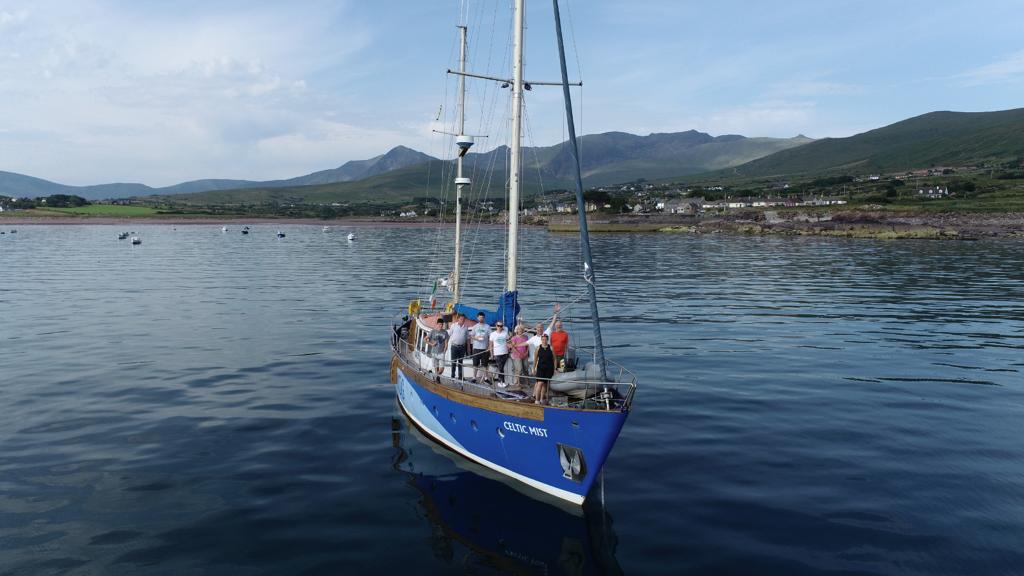 Celtic Mist Crew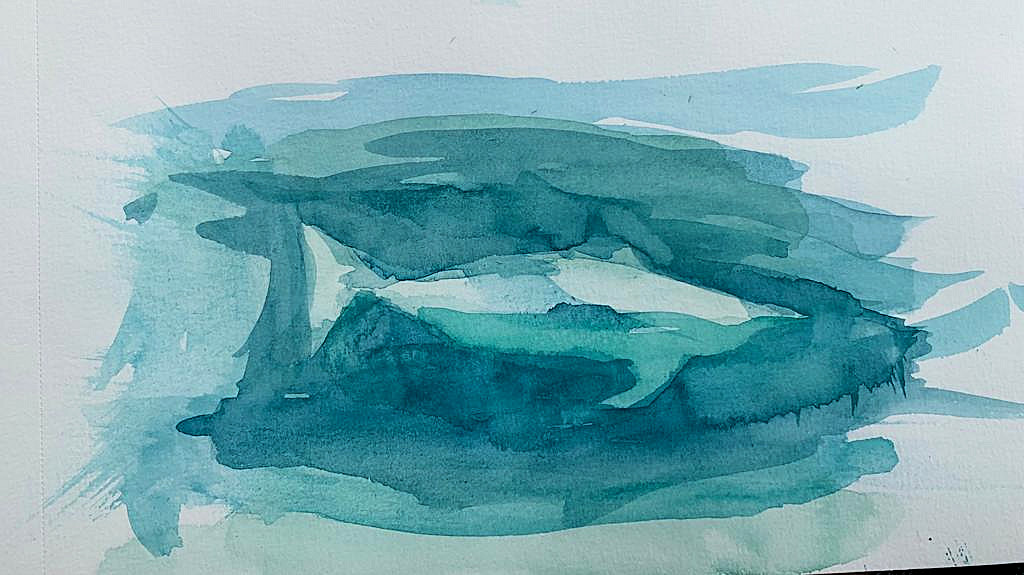 David's Watercolour of a Dolphin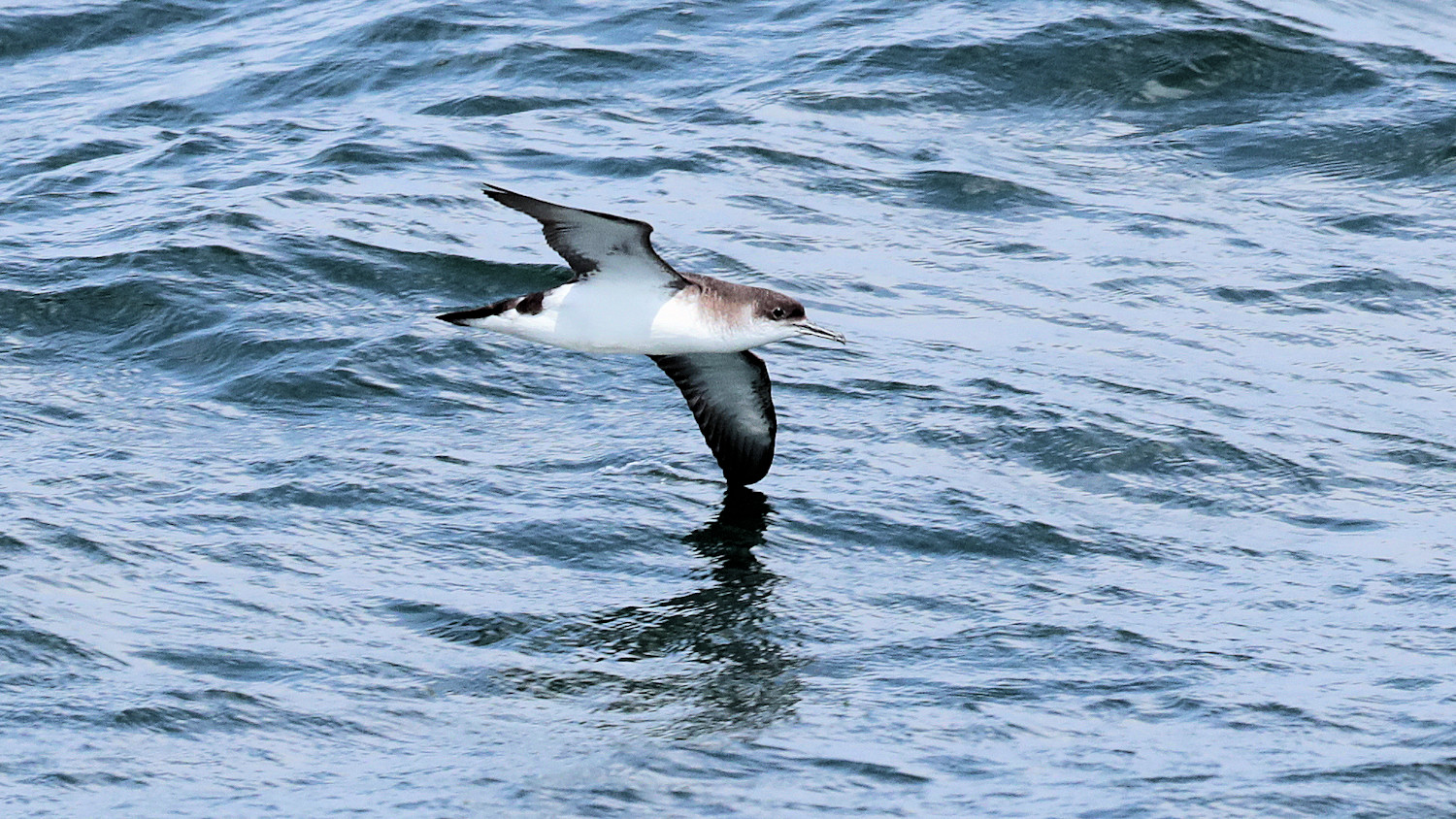 Manx Shearwater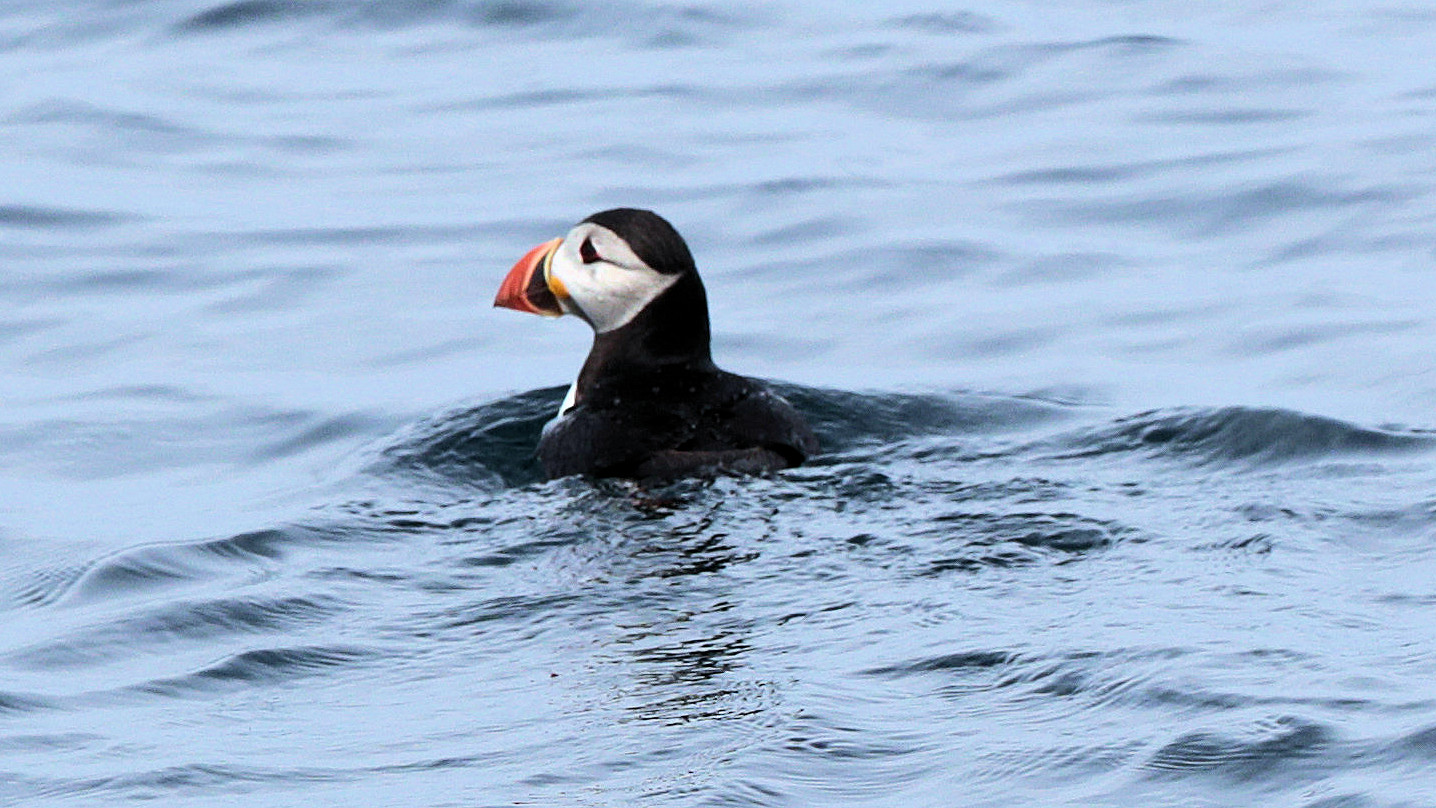 Puffin