Although some of the images are protected by copyright (the images with a watermark) you are free to share a link to all images on Facebook, Twitter or Pinterest.
There are two ways to do this...
Here's how...
Method 1 - From the Gallery View
1. Firstly make sure you are already logged in to social media account you want to share it on (Facebook, Pinterest or Twitter)
2. Click on a Gallery (or Album) e.g. https://denisoregan.com/wildlife/event/Africa
3. You should see a sharing icon at the bottom right-hand corner that looks like this...

4. When you click on it it should expand out so you can see these icons...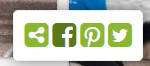 5. Click on the relevant icon (Facebook, Pinterest or Twitter)
7. Add your comment if you wish (keep it nice!) and then post.
Please Note:
Copyrighted images will display a ©denisoregan.com watermark
Images without a watermark are free to use - (all I ask is that you credit the image as follows: image by denisoregan.com)
Private galleries (with a password) will not show you the social media sharing icons.